BOCA RATON – Greater Boca Raton Beach and Park District Vice-Chair Erin Wright is more certain than ever that the District made the right choice to fast-track Ocean Strand Park.
"I'm super excited," Wright said. "Now that everything's cleared out you can really see the space that we have."
On Friday Wright joined a tour of the Ocean Strand site, seeing first hand how the clearing of invasive vegetation opened the site for walking trails that lead from A1A all the way to the Intracoastal.
WPTV's Miranda Christian accompanied Wright, District Executive Director Briann Harms and Maracore Builders owner/president Nate Custodio, becoming the first media member to experience the park since clearing began earlier this month.
Here is Christian's report:
District commissioners voted in April to fund Phase I of the 14-acre Ocean Strand Park, which focuses on the 11 acres between A1A and the Intracoastal, south of Spanish River Blvd.
In August commissioners selected Maracore Builders' bid to transform the vacant property into a park that includes walking trails, benches, picnic tables and potentially a sandy beach-like area on the Intracoastal accessible by kayak. AGTLand Landscape Architecture, which worked as a consultant on the renovation of Boca Raton's Red Reef Park, is partnering with Maracore for the project.
One month after selecting Maracore, District commissioners approved additional funding that instructs Maracore to create paths compliant with the Americans with Disabilities Act.
Upon completion of the current clearing, crews will hydro-seed part of the newly exposed area to expedite the growth of a lush green carpet. Then they'll create the ADA-compliant trails before adding the final beautification touches. At that point the District can address additional phases of park development.
"We'll get more public input on maybe what we can do here," Wright said. "But my point of view, I think having this open natural space is fantastic – especially across from the beach and attached to the water. I think it's going to be great."
The District purchased Ocean Strand with the idea of creating a public park that accentuates the property's natural features and beauty, believing that additional open space and access to both the Intracoastal and the beach would allow the community to appreciate Boca Raton's natural beauty in a relaxed setting.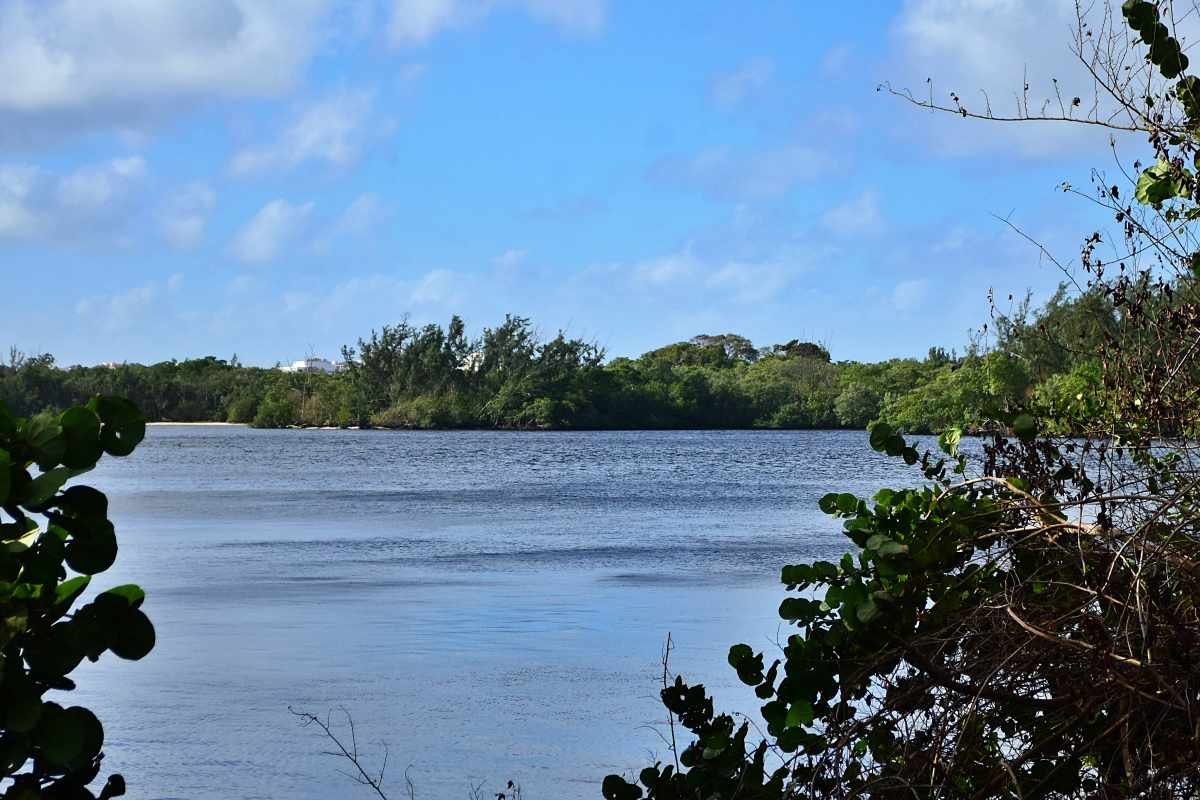 With the invasive vegetation removed, Ocean Strand Park now features clear access to the Intracoastal. This photo looks west from the water's edge at Ocean Strand Park.