Leonardo's Lessons - A Hands-On Lab
The lessons, discoveries and artistic masterpieces from one of history's greatest minds are coming to Sugar Sand Park's Science Explorium – and they've never been more fun.
Leonardo's Labs is a hands-on exhibition that showcases the inventions, art, and ideas of Leonardo da Vinci, the original Renaissance man. The exhibit is scheduled to open on Saturday, Sept. 23, but the Boca Raton community can get a sneak peek the night before between 6 p.m. and 8 p.m. Attendees at the sneak peek can enjoy the exhibits, demonstrations, giveaways and more.
Developed by the Carnegie Science Center and produced in partnership with Sciencenter, Leonardo's Labs features 12 interactive activities that allow visitors to explore da Vinci's work in science and art.
Children enjoying the exhibit will be able to create their own flying machines inspired by da Vinci's design, then test them in a wind tunnel.
There's also a station where kids can challenge their brains with math puzzles that da Vinci used to study proportions and patterns.
Visitors can tap into their creative side to make their own Mona Lisa masterpiece. They'll also learn to write backward to decode secret da Vinci messages, as well as engineering bridges and simple machines.
The exhibition includes replicas of da Vinci's paintings, sketches, and models, as well as interactive displays that explain his concepts and discoveries in fields such as anatomy, astronomy, botany, optics, and more.
Leonardo's Labs has four main goals for visitors:
To understand the ways science, technology, engineering, art, and math are applied to everyday problems.
To collaborate with others to create and evaluate solutions to a problem.
To foster innovative minds and the ability to problem-solve.
To cultivate multi-disciplined thinking.
Leonardo's Labs will appear at the Science Explorium through January 7, 2024.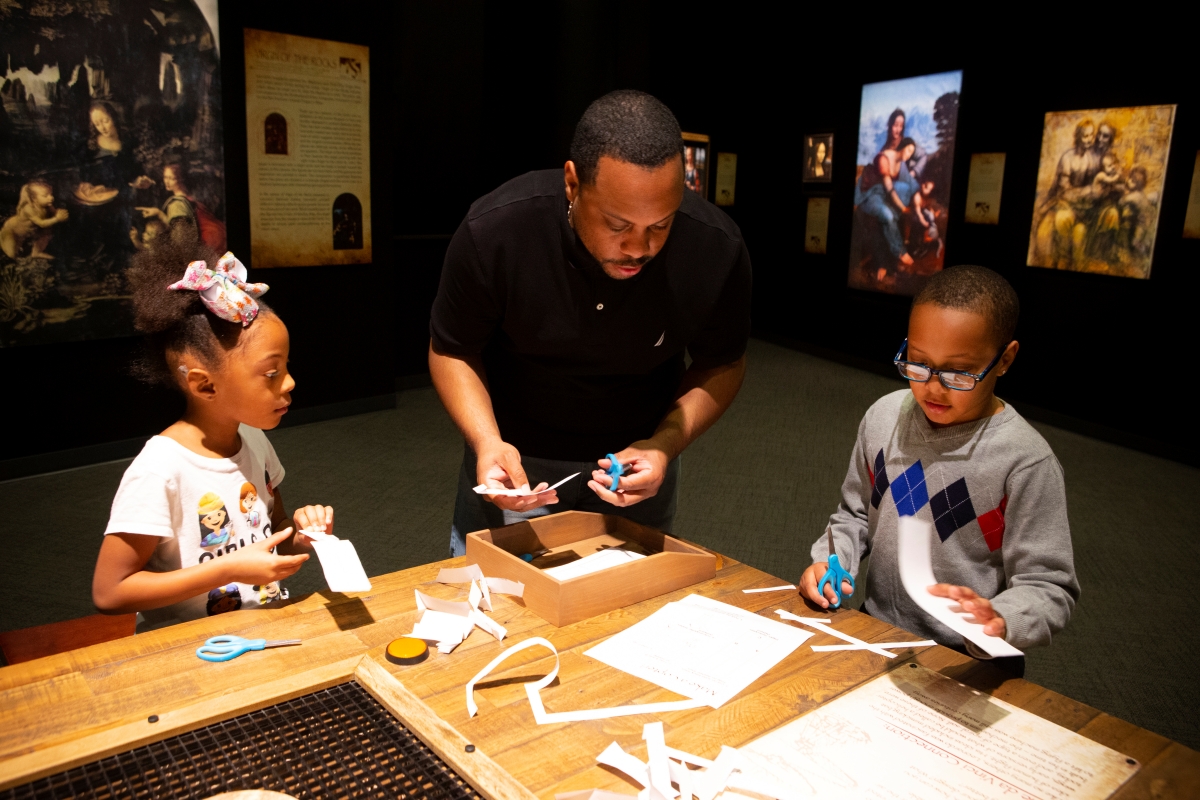 The Leonardo's Labs exhibit at the Science Explorium within Sugar Sand Park officially opens to the public on Sept. 23.
This story first appeared in the September 2023 edition of our District Dispatch newsletter. To receive future newsletters via email, enter your email address below, then click "Send Me District Newsletter Updates!"