Fencing's Finest Calls Sugar Sand Home
The trail to the United States fencing championship now winds squarely through Boca Raton's Sugar Sand Park.
That's where reigning USA Fencing title holder Ivan Goriunov spends many of his nights. That's where he first learned the sport he now commands.
Nearly a decade ago the Goriunov family emigrated from Russia to Boca Raton. At the time Ivan's older brother, Andrei, began fencing with the South Florida Fencing Club as part of his pentathlon training. Ten-year-old Ivan became an interested spectator. 
"When I was little I had to come and just watch and be here because we didn't have another car," Ivan said. "And I was like, I want to try. And here we are."
Ivan grasped the sport quickly. 
Fencing competitions feature three disciplines, each defined by the weapon employed by competitors – either saber, foil or epee. Goriunov wields an epee, which looks similar to a foil but is heavier, and scores when the tip touches any part of the opponent's body.
"The sport is so much more mental than physical," Goriunov said. "That's why some people call the sport 'the physical chess.' There's so much thinking and computing going on in your head while you're fencing on a higher level. The amount of actions and decisions you have to make during split seconds is really intense. The challenge is constantly something new. There's always something to improve. And it's just really fun. Like, when else do you get to poke people with swords, right?"
Fast forward nine years from Ivan idly watching his brother to July, 2023, and the USFA Summer National Championship in Phoenix. Now 19, Ivan rallied from a 14-11 deficit in the championship finals, registering the final four points of the match to defeat former champion Adam Rodney 15-14 - claiming the USFA Epee National Title in the top adult division.
"That was the coolest match," Goriunov said, grinning.
Sugar Sand's community center has been the home of coach Mario Jelev's South Florida Fencing Club for some 15 years. Fencers practice nearly nightly inside half of the field house – the clangs of the epees, along with the beeps and horns of the scoring system often offset by squeaking of sneakers and the pounding of volleyballs during free play on the other side of the curtain.
Jelev's the only coach Goriunov has ever known.
"He never gives up mentally," Jelev said of Ivan. "He believes he can make it." 
A fencer for more than four decades as well as a former national coach in his native Bulgaria and here in the U.S., Jelev's fencing knowledge is extensive. 
His club is relatively small – only about 40-50 members at any given time. A more diverse club may not exist. One weeknight in late August participants ranged in age from 6 to 60. At least half were female. Many spoke with eastern European accents. Perhaps a quarter were of Asian decent.
Some had loved the sport for decades. Others were newbies, enjoying an activity that bolsters their college applications. All enjoy the camaraderie.
"I like that you can communicate with friends." 10-year-old Amaliya Grigoryan said. "You can do it as a team and you can win trophies together." 
Developing top-tier fencing talent isn't new for Jelev. He's coached a former U.S. women's national champion. Members from his clubs – some of whom have come from as far away as Tampa, Gainesville and the Treasure Coast - have graduated to fence for Princeton, Yale and John's Hopkins.
A recent graduate of FAU High School, Goriunov turned down a full scholarship to Boston University, opting to enroll at Florida Atlantic University this fall.
"I stayed at FAU because I wanted to stay in the club," Goriunov said. "We decided to stay at FAU because, first of all, I have a lot of college credits already from high school. And I get to stay with Mario, because I'm in the middle peak of my fencing career and if I go to another coach it might not be the same." 
Remaining close to Sugar Sand Park also factored in the decision.
"I love the people," Goriunov said. "This place is my second home, as cliche as it sounds. I enjoy being here. It's great."
FAU doesn't have an NCAA fencing team – or even a competitive fencing club. That might soon change, as Goriunov is considering starting one.
But for the moment, his thoughts are more focused on Serbia than Spanish River. In September, Goriunov will be among the contingent representing the United States in Belgrade – his first international competition.
"I love the sport," Goriunov said. "I'm really thankful for the Sugar Sand people for letting us use this place. I think it's a sense of family and community."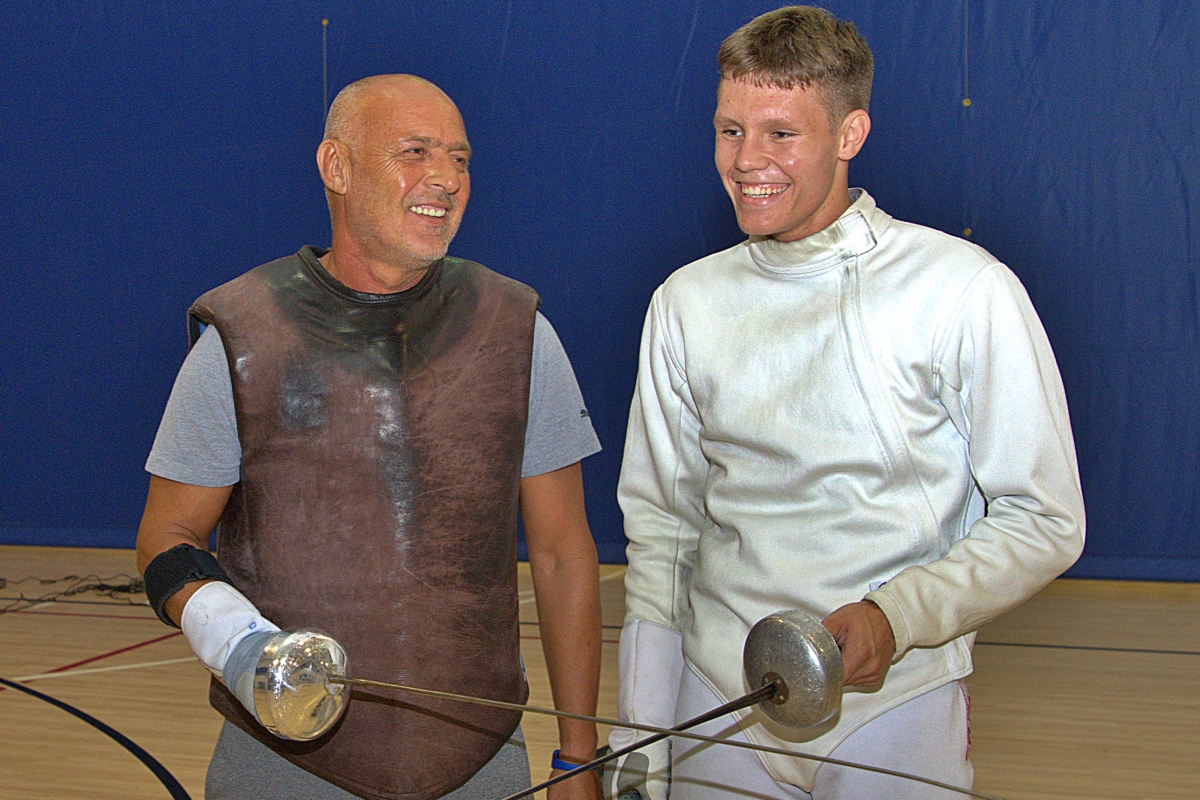 National champion fencer Ivan Goriunov (right) smiles at his coach, Mario Jelev.
This story first appeared in the September 2023 edition of our District Dispatch newsletter. To receive future newsletters via email, enter your email address below, then click "Send Me District Newsletter Updates!"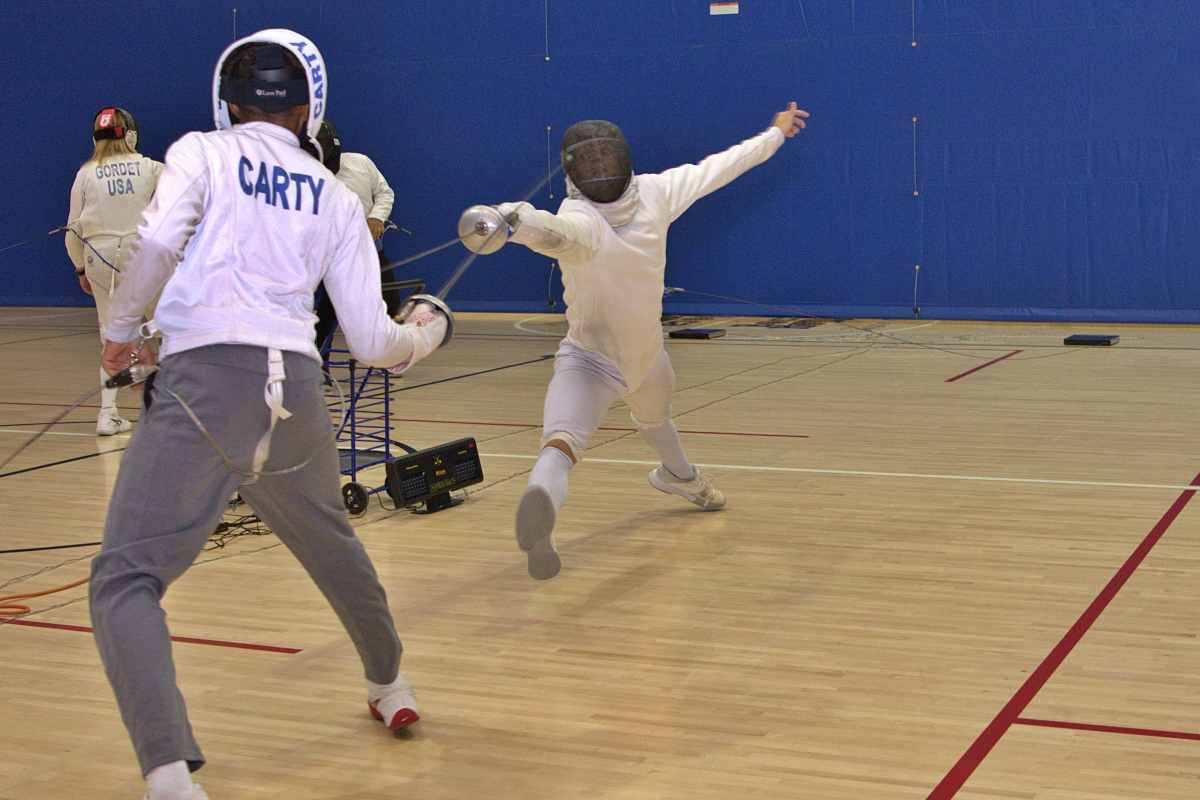 Ivan Goriunov lunges at his opponent during a fencing practice at Sugar Sand Park's Community Center.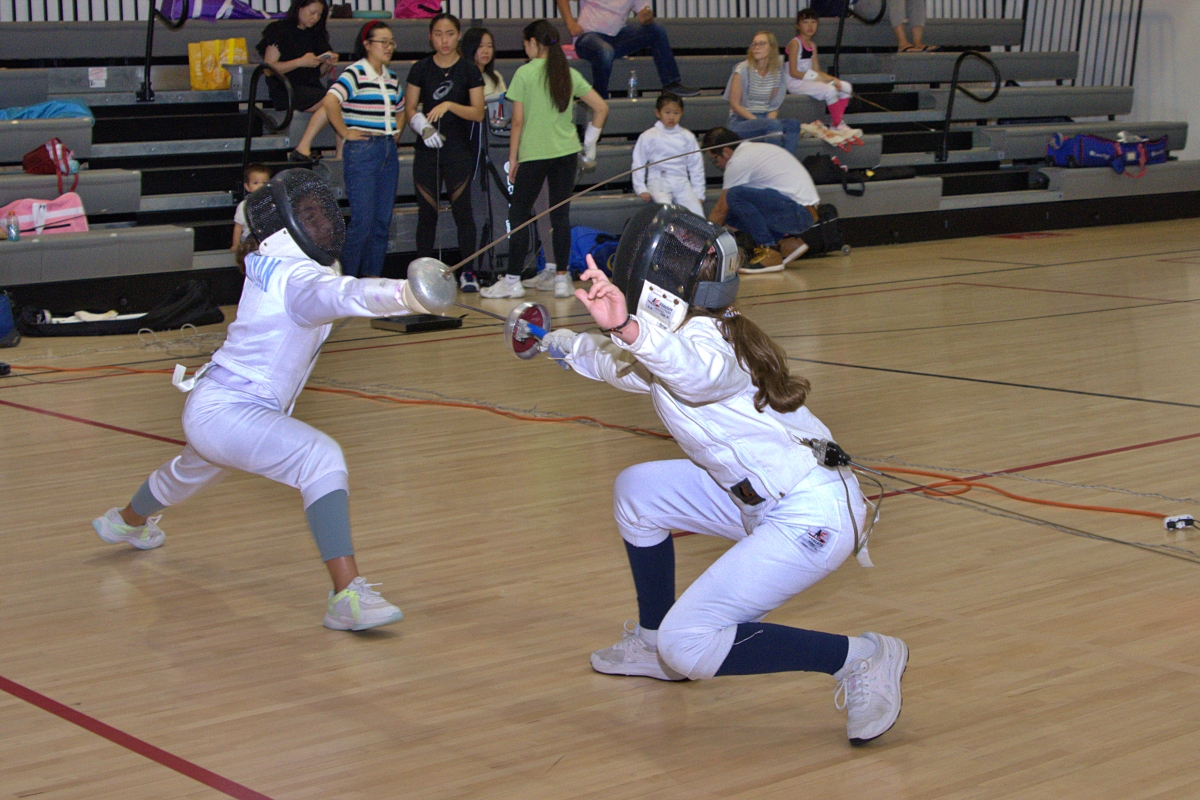 Approximately half of the members of the South Florida Fencing Club are female - some as young as six years old.