Ocean Strand Clearing Begins
BOCA RATON – The path to opening Ocean Strand Park is now a little clearer.
Beginning last week, crews armed with tractors and chainsaws began removing invasive vegetation from the plot of land that will become one of South Florida's finest passive waterfront parks.
"It's wonderful to see such rapid progress at Ocean Strand Park," Greater Boca Raton Beach and Park District Executive Director Briann Harms said. "The community told our Commissioners that they wanted more parks with natural walking trails. The opening of Phase I of Ocean Strand will give them exactly that – and soon."
The clearing of invasive vegetation – including Brazilian pepper, carrotwood, snake plant, small Australian pines and other herbaceous exotics – will allow the tropical hammocks and oak hammocks near the Intracoastal to thrive. The massive ficus tress will remain, as will palm trees, gumbo limbos, pigeon plums and lancewoods.
Once the clearing is complete, crews will hydro-seed part of the exposed area to expedite the growth of a lush green carpet. Then they'll create the ADA-compliant trails before adding the final beautification touches.
"I'm excited," said Nate Custodio, owner/president of Maracore Builders, whose company submitted the winning bid to create Phase I. "It's going to open up the area quite a bit, restore a lot of the natural habitat. I think when it's all done it's going to look great."
District commissioners voted in April to fund Phase I of the 14-acre Ocean Strand Park, which focuses on the 11 acres that reside between A1A and the Intracoastal south of Spanish River Blvd.
In August commissioners selected Maracore Builders' bid to transform the vacant property into a park that includes walking trails, benches and picnic tables. AGTLand Landscape Architecture, which worked as a consultant on the renovation of Boca Raton's Red Reef Park, is partnering with Maracore for the project.
One month after selecting Maracore, District commissioners approved additional funding that would allow Maracore to create paths compliant with the Americans with Disabilities Act.
The District purchased Ocean Strand with the idea of creating a public park that accentuates the property's natural features and beauty, believing that additional open space and access to both the Intracoastal and the beach would allow the community to appreciate Boca Raton's natural beauty in a relaxed setting. 
Ocean Strand Park is expected to open to the public by year's end.
"We relied heavily on community input when creating our Phase I plan," Commissioner Steve Engel said, "It's great to see the community's vision for this park coming to fruition."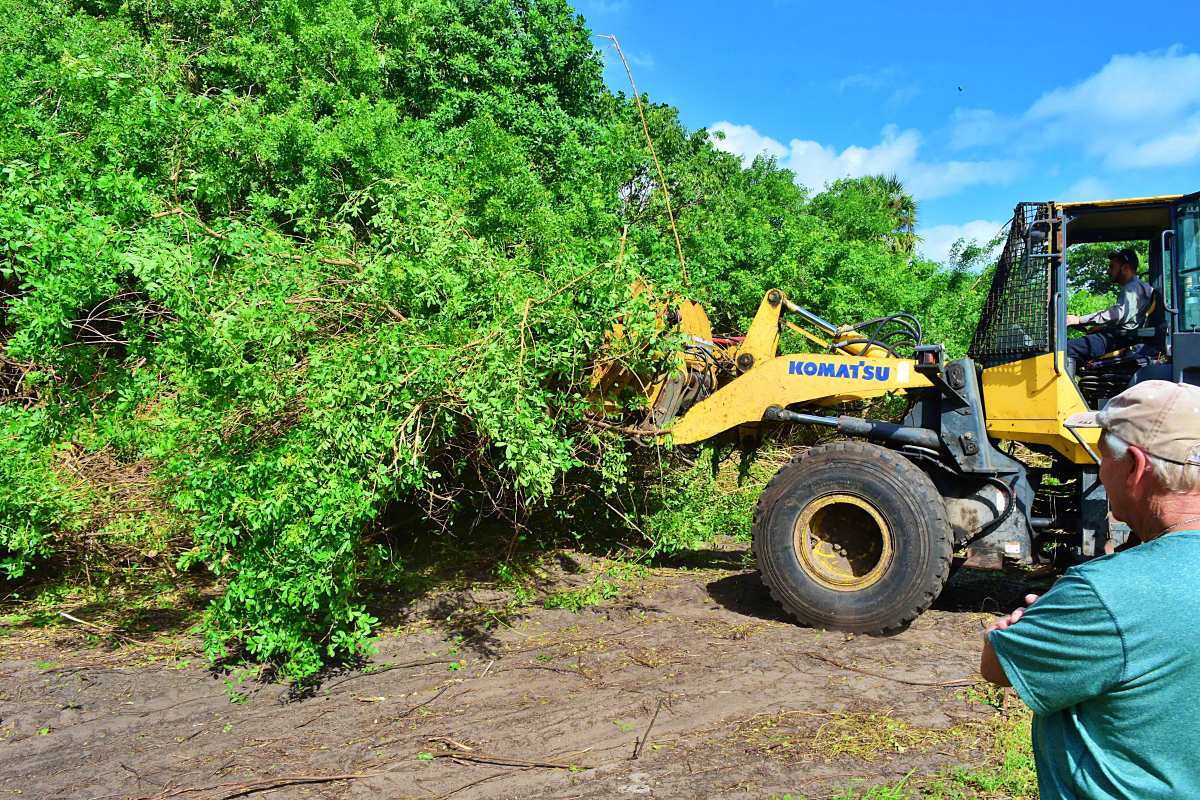 Construction crews begin removing invasive vegetation from Ocean Strand Park, Boca Raton's newest waterfront park.