Langford's Legacy Everywhere In Boca Raton
BOCA RATON, Fla. (Sept. 23, 2020) – The Boca Raton community would look substantially different had Bob Langford not come to town.
Langford guided the Greater Boca Raton Beach and Park District through its formative years, supporting the District as it created some of South Florida's iconic parks.
"I think the commissioners themselves obviously play a huge role in all of the District's undertakings, but there has to be a conductor. That was Bob," said Commissioner Bob Rollins, who served with Langford for nearly 20 years. "He was a conductor orchestrating the commissioners to ultimately come up with the programming that met the needs of the community."
Landford began serving the newly-created District in the mid 1970s. As its CPA he guided commissioners through the purchase of the land that became Red Reef Park and the Gumbo Limbo Center, helping set the pace for the District's preservation of natural spaces for community use.
At the time the District didn't have an Executive Director, but when it created the position a few years later commissioners quickly appointed Langford.
A fixture in that role until 2012, Langford played a pivotal role in the land purchase and the creation of Patch Reef and Sugar Sand parks. He also ushered commissioners through the purchase of the land that will soon become Ocean Strand Park.
"I can't say enough great things about him and his guidance in the development of our tax District," said Gordon Gilbert, who spent 30 years as a Commissioner working alongside Langford. "In my estimation he was just a good person and he was always interested in the parks and what could be done. The information that he gave to us moved us along."
Langford's calm demeanor and vast knowledge of the both the history and inner workings of the City of Boca Raton helped ease the transition for incoming commissioners.
Following her initial election current commission Chair Susan Vogelgesang recalls Langford devoting hours of his time to ensure she understood District's financial structure.
But Langford was more than simply a numbers guy.
"We toured every park, every beach, and every building so that the board he had represented for so many years would continue to serve the District with as much information as possible," Vogelgesang said. "Thanks to Bob Langford, our community has exemplary parks and beaches that are unique and nationally recognized. His oversight for many years is part of why Boca Raton is known as the "City Within a Park".
In August Langford died peacefully in his home at the age of 74. 
During Monday's public District commissioners meeting several commissioners recommended that the District actively pursue the creation of a memorial to Langford within one of its parks, an act that would demonstrate to his family and the community how much he meant both professionally and personally to an organization he helped define. 
"Bob had my heart," Vogelgesang said during Tuesday's meeting. "I will miss him dearly."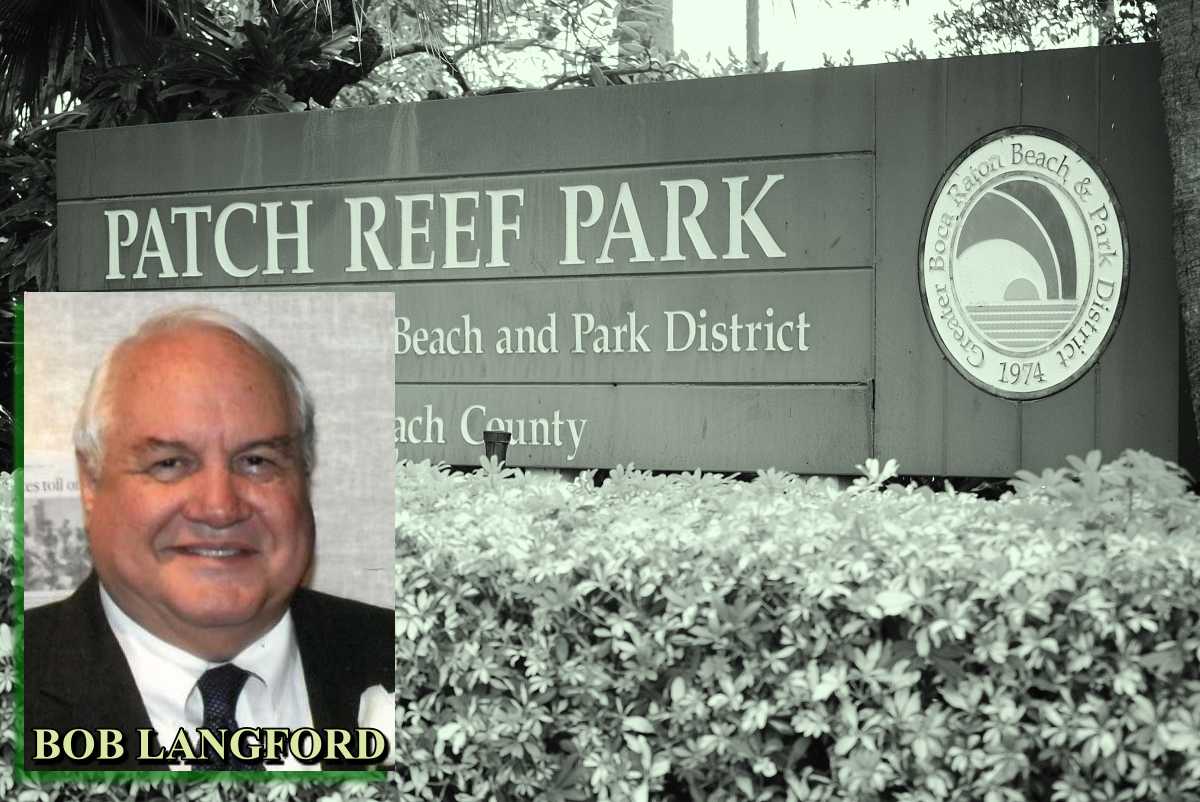 Bob Langford, the Greater Boca Raton Beach and Park District's first executive director, played a crucial role in the creation of community parks, including Patch Reef.